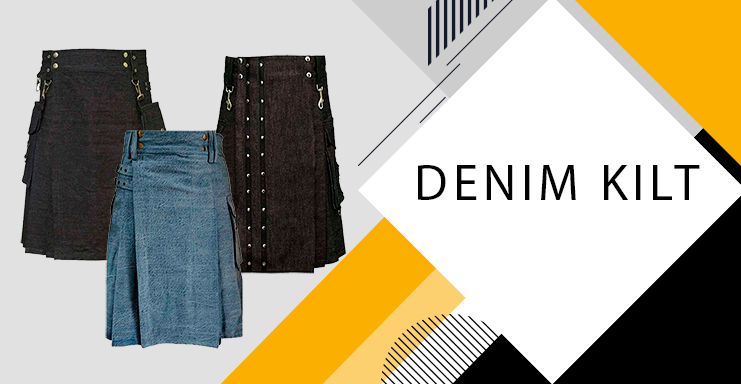 Denim kilt is extremely comfortable and is made for strong and tough men. It can be used as highland wear for all field-related work or sports activities and that is the best part of this clothing. If you are addicted to jeans and need some high-quality kilts, don't worry we found a suitable match for you. Here are your favorite denim kilts, which come in a variety of colors and sizes and are assembled entirely of 100% denim cloth.
Explore our extensive selection of high-quality denim kilts and pick your favorite model to get at a fair price without sacrificing the quality or design you like. Submit your order right now to get them delivered to your door.
Product Description of Denim Kilt:

The heavy-duty denim fabric is used to make this kilt to give you ease, amenity, and durability at the same time. It is specially designed for hardworking on-field men who don't want their clothes to be messed up.
This kilt is made according to proper measurements so one can easily wear it without any trouble in moving around.
Special Features of Denim Kilt:
It is available in all sizes
It is trendy and comfortable at any time
It looks ravishing
It has two storage tactical pockets so that one can take small tools with him as well.
It has deeply sewn pleats which makes it more comfortable
It has a plain apron on the front
It has leather straps
It has big belt holders
It has ornamental chrome color hooks fixed with belts
It is made from high-quality denim
We have Black and Blue denim kilts that are made from heavy-duty denim fabric. At the front, it has a simple apron and at back, It has pleats that are deeply sewn that gives this kilt an elegant look. It has strap spirals to carry the strap. It is custom-made and available in all sizes. It is corrosion-free as well. It has two storage pockets that can be used to keep small tools with you while working so do not waste time and order your favorite Denim kilt as soon as possible to make your look rocking even at work.