Hybrid Kilt - Top Quality Hybrid Kilts for Men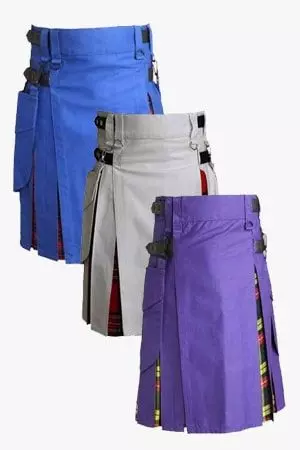 Have a hard time choosing between Utility Kilts and Tartan Kilts? Well, you can choose both with our high-quality hybrid kilt. We have designed several designs and patterns for you to wear at any time. Whether you are at work or home even at a wedding or party. Our kilts are made with cotton and tartan. We use quality fabric and acrylic wool for the design and pattern of our state-of-the-art kilts. Available in so many varieties of colors and patterns that you will love. Choose one now
Special Price

$56.50

Regular Price

$65.99

Special Price

$49.99

Regular Price

$89.99

Special Price

$55.00

Regular Price

$75.00

Special Price

$59.99

Regular Price

$97.00
Hybrid Kilts
People who love to wear kilts are always in confusion that which kilt is to wear daily. The hybrid kilt is the best option for those who want to enjoy both the tartan and utility kilt at the same time. This offers various kinds of colors, styles, and patterns which makes it easy for you to choose what to wear every day. The hybrid kilt is a utility kilt with modern designs but made out of tartan. The material used is a woven fabric with fully lined styles.
Sizing / Measuring
For those people who have an even size such as 30, 32, or 36, then it is recommended to order that exact size. However, for those who fall in between it is more suitable to go for one size bigger, which will give a comfortable fit. If you prefer a tighter fit, you could always go for one size smaller. A few kilts have a tapered slim fit, for those, it is recommended to go for the exact size or bigger size as the fit is slightly tighter than regular. (Kilt Measuring Guide)
Custom Hybrid Kilt
If you are looking for a waist size that is not on the list or you want a particular kind of color, then head on over to our special-order list. You can choose any kind of size and color modification you would like from there. We can fabricate the kilt in 2 weeks and can ship it to your doorstep.