Prince Charlie Kilt Outfits - Prince Charles Outfit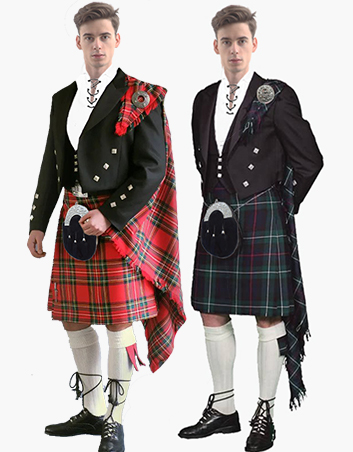 Prince Charlie Kilt Outfit gives a classic look to the outfit. Prince Charles Kilt Outfit is perfect for any informal and informal event. It can also be worn at traditional festivals, highland games, and weddings. These Prince Charlie Kilt Outfits come with a jacket that belongs to Prince Charlie. They have a fantastic design on the cuffs and shoulders. The sides and back are decorated with patterns of studs. Kilts are the obvious part of this modern kilt outfit. These kilts have a specific pattern that represents the Scottish Highlanders clan. Each clan has its pattern. It has a Ghillie Shirt made with twill cotton and can be worn in all weather. These shirts have a leather drawstring for the shirt closure. Other Accessories that come with these Prince Charles kilt outfits are sporrans, flashes, fly plaid, brooch, socks, and others.
Prince Charles Kilt Outfit
Prince Charlie Kilt Outfit is said to be more traditional. Prince Charles's kilt outfit is available in different tartan pattern kilts and hardware customization. We have a variety of almost all tartans that can be chosen to order your formal kilt attire. We ensure Prince Charles's kilt outfit is perfect for your body size and shape. Our
formal kilt attire are made with high-quality fabric so you can use them often. We deliver accessories with these kilt outfits made of quality material. Order a Prince Charlie outfit to get a fabulous outfit. Besides the Prince Charlie Kilt outfit, we also have the Argyll Kilt Outfit for our customers.
For any issue in the purchase process, use our chat option, or you can also email us at our address support@theutilitykilt.com. For common queries, we have the faq page. There you would find answers to the common questions asked by the people about the purchase process.