Denim Kilts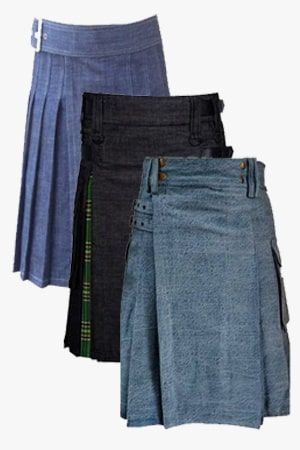 Denim is the most worn fabric in the world whether intended to keep it casual or a function. At the utility kilt shop, we manufacture high-quality kilts keeping in mind your comfort and style of yours. With the inclusion of pockets and hooks in our kilts, we also focus on the usability of our kilts.
Picturing the class and style of yours we can manufacture several different styles and colors upon your choice. And of course the quality of the fabric used in our kilts top notch.
We make sure your order is perfect for you so just describe your size preferences and you will get a perfect fit kilt.
Special Price

$56.00

Regular Price

$67.00

Special Price

$58.99

Regular Price

$70.00
These days denim kilts have become a fashion trend and are gaining popularity among the youth because of their fabric, style, and pattern. So it is time for you to enjoy these amazing kilts with their variety of styles and good use of fabrics to make yourself unique and a fashion icon.
Sizing / Measuring
For those people who have an even size such as 30, 32, or 36, then it is recommended to order that exact size. However, for those who fall in between it is more suitable to go for one size bigger, which will give a comfortable fit. If you prefer a tighter fit, you could always go for one size smaller. A few kilts have a tapered slim fit, for those, it is recommended to go for the exact size or bigger size as the fit is slightly tighter than regular. (Kilt Measuring Guide)
Custom Denim Kilt
If you are looking for a waist size that is not on the list or you want a particular kind of color, then head on over to our special-order list. You can choose any kind of size and color modification you would like from there. We can fabricate the kilt in 2 weeks and can ship it to your doorstep.
Sky Blue
This kilt has a more rustic shade with a modern design to make it useful for a variety of uses. It has a smooth front apron with the classic buckled side straps on one side.
Black Kilt Smart
A plain yet unique color makes it great for all occasions. This kilt offers one pocket on the front apron while two larger flapped pockets are located on either side.
Indigo Detachable Black
If you require a versatile kilt that has both utility and style this is a perfect choice. The back of this piece has the traditional pleated kilt finish.
Heavy Kilt with Straps
High-quality material makes this kilt a great asset for all purposes. It has two iconic studded straps running down one side of the front apron
Denim with Leather Kilt
This dark indigo kilt is styled with small studs, large buttons, and pieces of leather all over. Near the waist, the front apron is tied to the kilt using a large button and flap.
Black Detachable Kilt
A simply designed kilt meant to offer functionality and versatility with its unique features. A good accompaniment for several styles. The kilt also has a pleated design which gives it a very traditional both with and without the pockets.
Blue Kilt with Red Thread
A kilt with a simple design and an intricate red pattern for the one who has an eye for details.
Black Slim Fit
A unique shade contrasted with bright green and yellow checkered patterns in between the pleats.
Black Denim Kilt Active Men
It features a plain long front apron with simple styling. On the sides are two leather straps under which are flapped pockets on both sides.