Men's Leather Kilts - Custom-made Leather Skirt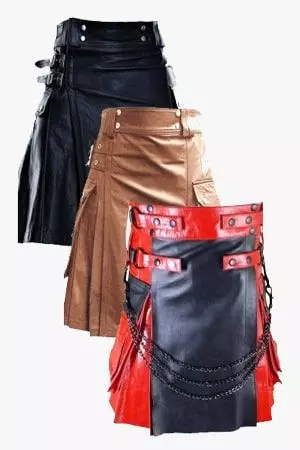 Leather kilts have a class of their own. The sleekness, boldness, and smoothness can grab the attention of anyone. The leather can be transformed into beautiful and classy kilts so we did it elegantly. We have designed our kilts for men in a way you would love and prefer. Choose whether in an aggressive shape or simple for casual wear.
Choose the waist size and we will make a perfect kilt for you to be confident and bold.
Special Price

$176.00

Regular Price

$210.45
Sizing / Measuring
For those people who have an even size such as 30, 32, or 36, then it is recommended to order that exact size. However, for those who fall in between it is more suitable to go for one size bigger, which will give a comfortable fit. If you prefer a tighter fit, you could always go for one size smaller. A few kilts have a tapered slim fit, for those, it is recommended to go for the exact size or bigger size as the fit is slightly tighter than regular. (Kilt Measuring Guide)
If you are looking for a waist size that is not on the list or you want a particular kind of color, then head on over to our special-order list. You can choose any kind of size and color modification you would like from there. We can fabricate the kilt in 2 weeks and can ship it to your doorstep.