Buy Tartan Kilt - Scottish Kilt - Traditional Irish Kilt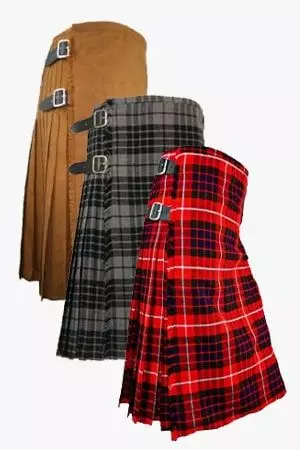 Tartan kilt is the symbol of Scottish culture. Our high-quality modern Scottish kilts are made for you to be in your rich culture. We make our Irish kilts with acrylic wool and other fabrics keeping in view your easy maintenance and handling. Our tartan kilt is made for casual purposes or even when you are going to a sports event. We make perfect-fit tartan kilts for you.
Special Price

$46.00

Regular Price

$51.80

Special Price

$45.00

Regular Price

$57.99

Special Price

$45.99

Regular Price

$79.99

Special Price

$52.99

Regular Price

$79.99

Special Price

$44.89

Regular Price

$52.50

Special Price

$57.00

Regular Price

$86.00

Special Price

$55.00

Regular Price

$70.00

Special Price

$54.00

Regular Price

$76.00
Tartan Kilts - Traditional Kilt
Tartan is a patterned fabric comprising intersecting, straight and perpendicular lines in more than one color. These lines are squares making a checkered pattern on traditional kilts. These patterns represent the Clans of Scottish. Each clan has its own specific pattern or color combination that was made for clan identification. Now these traditional pattern kilts are worn by clan people for identification and symbol of culture. Plaid Kilts have a plain front apron and a pleated design on the back.
Scottish Kilt
Scottish Kilts are classic and comfortable to wear on any occasion. These affordable kilts are custom-made and can be ordered in the right sizing option. It's normally wide according to the waist and falls to the knee length.
Irish Kilt
Irish Kilts are equally famous as the Scottish Kilts. The only difference is the pattern on the tartan. The Scottish Tartan pattern represents the clans of highlanders. Whereas Irish Kilt patterns are made according to the counties of Ireland
If you want other kilts for men in the tartan fabric at The Utility Kilt. We also have a tartan utility kilt. That comes with pockets on both sides. Consider buying accessories with tartan kilts as they enhance the beauty of the traditional dress. Kilt accessories preferred with these kilts are sporran, fly plaids, flashes, and others. Or you can wear a Kilt outfit for a traditional look.
We have a collection of almost every tartan that can be made according to the customer's needs and requirements. Order your tartan kilt from our online store, and we will make an affordable kilt for you. If you need further help, contact us through our chat option or email us at support@theutilitykilt.com.