Tartan Kilt Mens - Tartan Kilts at Affordable Price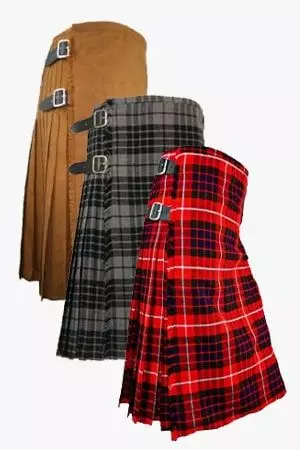 Tartan kilt for men is the symbol of Scottish culture. Our high-quality modern tartan kilts are made for you to be in your rich culture and also, be modern to enjoy all the important events in your life. Back in the days, Tartan kilts were made only by wool but our designers are more concerned about you. We make our tartan kilts with wool, acrylic wool, and other fabrics keeping in view the easy maintenance and handling of yours. So, no matter what you need our tartan kilt for casual purposes or even you are going for a sporting event. We make perfect fit tartan kilts for you.
Special Price

$44.99

Regular Price

$59.99

Special Price

$52.99

Regular Price

$79.99

Special Price

$55.00

Regular Price

$70.00

Special Price

$52.00

Regular Price

$69.00
Tartan Kilt Mens
Tartan is a patterned fabric comprising intersecting, straight and perpendicular strips in more than one color. These alternating colored threads are wrapped at a 90-degree angle with a horizontal band of three types of colors. The first one is modern colors that use chemical dye instead of the natural color dye. Secondly, Ancient colors were the lighter shades of Tartan which represented the aging over time. Lastly, muted colors represented shades of modern and ancient. In previous times, Tartans were only made with woven wool, but nowadays they are being made in many
other fabrics and materials as well.
Tartan Kilt Mens - Sizing / Measuring
For those people who have an even size such as 30, 32, or 36, then it is recommended to order that exact size. However, for those who fall in between it is more suitable to go for one size bigger, which will give a comfortable fit. If you prefer a tighter fit, you could always go for one size smaller. A few kilts have a tapered slim fit, for those, it is recommended to go for the exact size or bigger size as the fit is slightly tighter than regular. (Kilt Measuring Guide)
Custom Tartan kilt
If you are looking for a waist size that is not on the list or you want a particular kind of color, then head on over to our special-order list. You can choose any kind of size and color modification you would like from there. We can fabricate the kilt in 2 weeks and can ship it to your doorstep.