Kilt Outfit - High Quality Scottish Kilt Outfit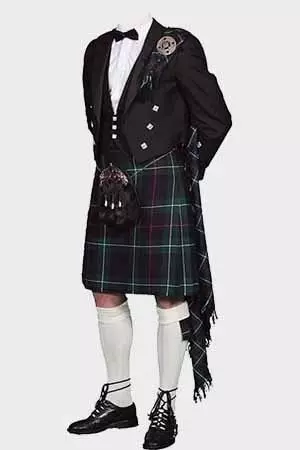 Kilt Outfit is often worn as a formal Scottish Kilt outfit on special occasions like weddings, events, and graduation ceremonies. In the past, highlanders used to wear a Kilt Dress as an identity of their clan. Still, kilt Outfits are worn by the Scottish as a symbol of traditions and culture. Our store offers premium quality kilt suits to make you look confident on your special day. We offer Scottish kilt outfits at a low price.
Kilt Suit and Irish Kilt Outfit
A large collection of Scottish kilt outfits is available at our store. Each of our traditional kilt outfits comes with a kilt, also has all the accessories like jackets, Ghillie shirts, sporran bags, and footwear to give you a complete look. These wedding kilt outfits are made of acrylic wool and have a tartan pattern. That represents the Scottish clan colors. We use silver studs, kilt pins, chains, etc., to decorate wedding kilt outfits. Prince Charlie's Kilt outfit and Argyll Kilt outfit are our best-selling suits. Both of these types have their own set of accessories for a unique look. Check out our amazing Irish kilt outfits collection now. You can customize your Scottish kilt outfit according to your size and color. You can also choose the accessories that suit your personality from our accessories section. Other than kilt suits, we also offer kilts for men, women kilts and kids kilts for our customers. Order your kilt dress from our online store for upcoming events.
If you have an issue in purchasing traditional kilt outfits from our online store, go to the chat option, or you can email us. For contact, our email address is support@theutilitykilt.com. Our representative will help you in buying a kilt from our store. For common queries, we have a faq page. There we answered the common questions asked by the people.