Best Argyll Kilt outfits - Buy Full Kilt Outfit Online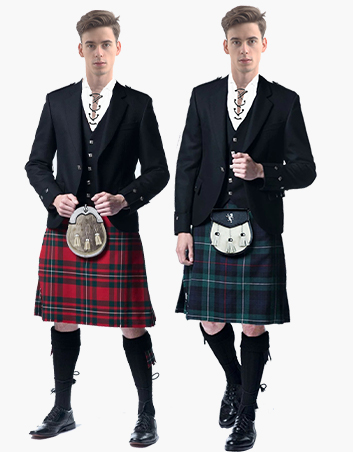 Argyll Kilts Outfit comes with a unique look and an awesome pattern. Argyle Kilt Outfit is more modish than the other outfits. It has a stylish jacket that is decorated with studs and buttons on it. The cuffs of the jacket have a beautiful pattern. It comes with a waistcoat or vest that gives an elegant look. The Argyll Kilt outfit has a Ghillie shirt to wear with the outfit for a classic appearance. The Argyle Outfits comes with a kilt made of traditional tartan lines, and acrylic wool is used as fabric material for these kilts. These lines represent the clan of Scottish Highlanders, each of these clans has its tartan pattern. Highlanders initiated the kilts for battle purposes. But now, these Kilts are part of Scottish culture and are mostly worn at traditional and wedding events.
Full Kilt Outfit
We made a Full kilt Outfit in quality material. We deliver Argyle Kilt Outfits and all accessories, including sporran, socks, flashes, and others. That makes it a full-kilt outfit. Get mens kilt outfit from our online shop for upcoming events. We offer these outfits at a low price. These are perfect for formal and informal occasions. Other than Argyle Outfit, we also have the Prince Charlie Kilt Outfit. It's different in design and has separate accessories from the Argyll kilt outfit. We have a variety of accessories for both kilt outfits. Choose your favorite outfit and order from our online store.
If you have any issues while purchasing from our online store, use our chat option or email us at support@theutilitykilt.com. We have the faq page for common queries, where we have answered the common questions people ask about the purchase process. Our representative will help you in the buying process