Mens Utility Kilts - Best Utility Kilt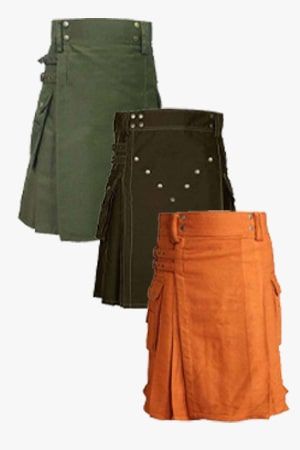 We specialize in manufacturing custom-made utility kilts from the finest material. Top-quality custom utility kilts are the latest style of wearing traditional kilts with a modern touch. Utility kilt is the one way to stay ahead of the latest fashion trends around you. Our utility kilts are specifically designed to achieve the best results in comfort and fitting during your tough jobs. Just tell us your requirements and you will get it as you like. We can fabricate the custom utility kilt for men in 2 weeks and can ship it to your doorstep. Order today.
Best Mens Utility Kilt For Sale
Utility kilts are specifically designed to be worn at ease and stand out at work in this modern era. Utility kilt is a mixture of both tradition and fashion on one hand. Utility kilts are available in cotton, leather, denim, and many other types of fabrics. They are designed in a modern way that the front part of the utility kilt is wide and sometimes ends in the middle of both legs. Modern Utility kilts also come with pockets to carry stuff during work.
Utility Kilts - Sizing / Measuring
For those people who have an even size such as 30, 32, or 36, then it is recommended to order that exact size. However, for those who fall in between it is more suitable to go for one size bigger, which will give a comfortable fit. If you prefer a tighter fit, you could always go for one size smaller. A few kilts have a tapered slim fit, for those, it is recommended to go for the exact size or bigger size as the fit is slightly tighter than regular. (Kilt Measuring Guide)
Custom Utility Kilt
If you are looking for a waist size that is not on the list or you want a particular kind of color, then head on over to our special-order list. You can choose any kind of size and color modification you would like from there. We can fabricate the kilt in 2 weeks and can ship it to your doorstep.