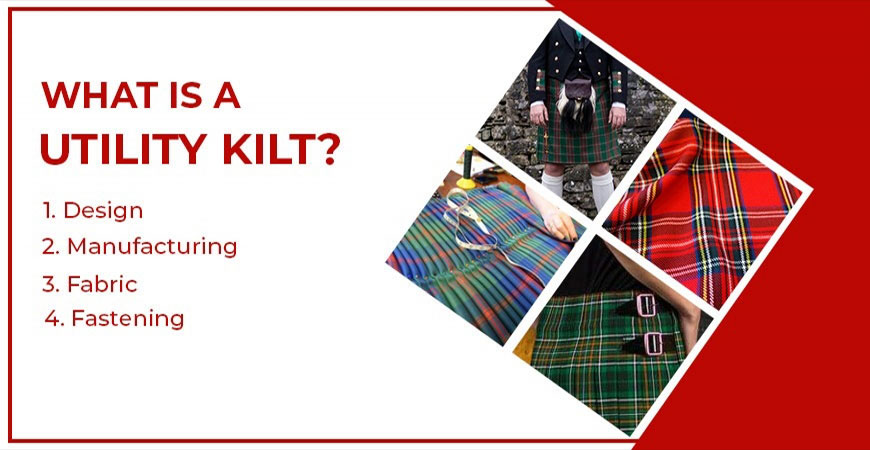 Kilts are a centuries-old traditional skirt-like dress of Scottish descent. Kilts have been worn by men and women of Scotland for hundreds of years, during the long history of this clothing at one point in time it did come close to becoming extinct as there was a ban imposed on the wearing of kilts for political reasons. However, the kilt survived this period of exile and returned to once again be a local favourite. Since then kilts have only increased in popularity and recently have developed a strong global audience, with kilt fans wanting to wear this unique outfit all over the world.
As the Scottish weather is generally cold and features a harsh winter, kilts and their accessories were designed to be warm, durable and traditional. Today kilts are worn in many other parts of the world and some subtle changes have been stitched into the kilt to cater to this new consumer base.
This is what makes a modern utility kilt:
Design
The utility kilt features a very traditional structure and design while cleverly incorporating modern features. Even today traditional kilts are designed with no pockets or belt loops. However, utility kilts are meant for functional use and offer many different kinds of pocket styles and belt loops. Generally, utility kilts are designed with flapped cargo style pockets on the side, while some also use rear pockets and side pockets similar to those found on trousers. Moreover, some also feature detachable pockets. These are usually connected to the kilt through chain links and can be removed to create a traditional looking kilt.
Manufacturing
Previously kilts were predominantly made with tartan which is a thick wool-like fabric. This material was handcrafted to create a kilt with all of its design. Since then technology and automation have come a long way and several other materials are also used today in the kilt. Today kilts are mass-produced through automated machinery however some of them are still made by hand. It takes expertise and skill to craft any kind of kilt from raw fabric. Higher-end kilts are generally either fully handmade or at least hand-finished.
Fabric
As utility kilts are a modern take on the kilt, from the very beginning utility kilts were not made with tartan. Rather, manufacturers chose to use cotton, cotton composites, denim and waterproof fabrics for this particular kind of kilt, considering the uses it was made for. Tartan, though very beautiful and durable is not quite like modern materials. The materials used in utility kilts are meant to stand up to outdoor and work environment conditions. Often utility kilts have extra pockets for tools and equipment which can be heavy and jagged, this needs something like denim to contain them.
Fastening
Utility kilts make ample use of belt loops and some even come with belts as standard. Other types of kilts may have buckled leather straps on the sides or buttons on the side which are used to fasten the kilt. Both solutions are good but the belt gives the kilt a more modern look.